About Me
My name is Paul Gilbert, Jr.
I am a design engineer with Millennium Control Systems, Inc. I work in the glass industry, helping create control systems for float glass plants. I graduated from Case Western Reserve University in December 1997 with a degree in Electrical Engineering and Applied Physics. Before that, I attended Medina High School, where I graduated 26th out of about 350 students in 1993. Right now I reside in Garfield Heights, Ohio with my wife, Kelly, two cats, George and Sleepyhead, our puppy, Puddles, our turtle, Gobbles, and our snail, Fluffy.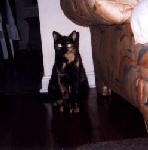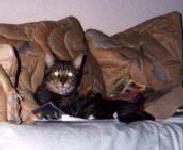 Interests
My interests include music, sports, and acting. From 1989 to 2000, I participated in a passion play called Tetelestai (Greek for "It Is Finished"). Past roles included a townsperson, a Roman servant, a Roman Guard, King Herod, and the apostles James the Less, Jude Thaddeus, Matthew, John, and Peter. Coming soon to a web browser near you ---> Tetelestai-web!

I have been a Cleveland Sports fan for quite a few years now and enjoy watching Indians, Browns, and Cavaliers games.

As music goes, I enjoy most modern alternative music. My favorite artists include They Might Be Giants, barenaked ladies, and Sarah McLachlan. I also enjoy classical music and Kenny Rogers, 'cause he is da' man.

Last updated : February 6, 2001.

Back to index page.
Prozac Main Page.

---
paul@prozac.eeap.cwru.edu